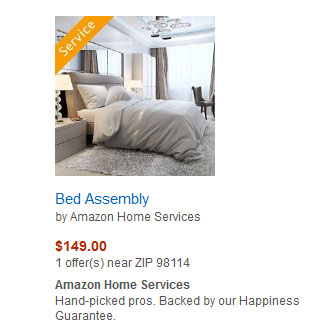 Amazon has launched its Home Services (formerly Amazon Local Services). If you are looking for voice lessons, yoga classes, furniture assemble, mounting wall televisions, setting up baby gates, house keeping or even assembling those products you buy at Ikea, now you can order them directly on Amazon. You can list your services on Amazon if you are a service provider or you can look for services close to you. Using geo based technology, Amazon matches your queries with your zip code. How will this impact your lifestyle? Hopefully it will make it much easier for you to get help with simple to expert projects.
Amazon Home Services competes directly with Angie's List and other online local services. The number of Amazon's service categories and the number of cities in which they are offered are both ballooning. It will take some time for the public to get used to ordering local services this way and time for merchants to list their services on Amazon.
As of March 30, Amazon Home Services was available in Miami, San Francisco, New York, Houston, Seattle, Chicago, Washington D.C., Philadelphia, Boston, Dallas, Atlanta, Phoenix, San Diego, San Jose, Portland, Minneapolis, Detroit, Denver, Riverside, Tampa, Orlando, Austin, Sacramento, Pittsburgh, Nashville, Cincinnati, Charlotte and St. Louis. Other locations are being added regularly.
Quietly introduced in late 2014, the service initially featured service providers whose businesses could help Amazon shoppers with additional needs related to purchases, such as installers who could put up a new TV. The expanded program goes well beyond that concept.
Now the list includes such things as plumbers, home improvement sources, lawn and garden, auto mechanics, computer and electronics aids and yoga instructors. There is a "more" category for items that jibe with those listings. It includes such exotica as "goat grazing" and "singing performances." The goal is to have a list for anything a customer is likely to need, including housecleaning and babysitting.
The introduction of the expanded service is a big step toward competing effectively in the on-demand economy. Amazon is partnering with some of the on-demand service startups, but not trying to replace them entirely. The approach is consistent with what Amazon has done with other initiatives, such as its online art store or the Amazon Sellers program. Experimentation has proved that the relationships can increase sales for small retailers of physical goods.
Amazon hand-picks the businesses it includes at its sites and ensures that they are licensed, insured and background-checked. The mega company had taken a 20 percent cut of services costing under $1,000 and 15 percent of those over that amount. But in conjunction with the new launch, service fees have been readjusted in three categories with varying fees. The company also has built in safeguards to assure the authenticity of user reviews and prevent spurious reviews by those who want to cause trouble for a competitor. Amazon shoppers buy services by putting them in an online cart so reviews can be authenticated.
The Amazon website says that prices quoted in the service are the same as those prospective customers would receive if they called the service provider direct. That answers some complaints from customers who sought services in the earlier phase of the program. Amazon also offers to match prices if the customer can find them cheaper elsewhere.