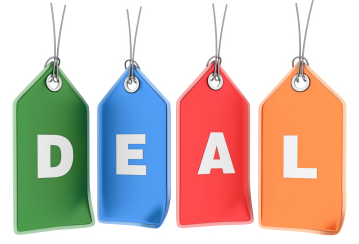 Discount stores, such as T.J. Maxx and Nordstrom Rack and others, exist to offer bargains, but a little savvy on your part can multiply the benefit. You can save an average 60 percent on brand name goods, even in season if you follow some simple suggestions,
The discount stores saw a real boom during the Great Recession More than 1,000 stores have been added to the rosters of major providers such as Marshalls, HomeGoods and T.J. Maxx since 2009, bringing the total to more than 4,000.
Sales topping $5 billion in clothing and footwear alone have been reported, a 40 percent increase since 2009, according to RBC Capital Markets, and the figures continue to climb.
Seven Tips To Help You Get In On The Trend
Shop Frequently And Do The Research
At least once a week, check out what's going on at your favorite discount stores. Have in mind up front what look you are hoping to cultivate. The stores receive new merchandise almost daily.
Time Your Buying
Become acquainted with a favorite clerk or the store manager. Each store has a rhythm as to what merchandise will be featured and when. They will be glad to share that information. Sign up with the store's Twitter and other social media so you'll receive alerts. Expect the discount outlets to be a few weeks behind the traditional stores, when they receive what is left from the parent store's sales. This is especially true of winter holidays.
Sign Up For Loyalty Programs That Offer Extra Savings
At Saks Off, for instance, regular customers get updates and extra savings by signing up for the More program on the website. TJX's loyalty program sponsors an occasional give-away and some private parties in which you can get first chance at discounted merchandise. The TJX Rewards card offer a $10 added bonus for every $200 you spend.
Look For The Real Thing
More than half of the merchandise offered in the discount outlets is made specifically for the company, many of the items brand name quality. The rest of what you find in the store is excess inventory from brands or full-price retailers. If you see many racks of a specific brand with good variety in sizes, it is likely the goods were created for the chain. Check seams for quality. Some of the outlets don't buy merchandise made for the off-price stores, offering only items designed for full-price stores or the best of their clearance goods. Macy's new Backstage products fall into this category.
Study Prices
Don't rely solely on the manufacturer's suggested list price. It may be inflated to make the discount look better. Compare prices of the item you want and what they actually sold for on Amazon.com and other websites.
Inspect For Flaws
The off-price stores have largely stopped being outlets for damaged merchandise, but it still pays to look carefully. Check expiration dates for food and beauty products and examine clothing for holes and snags in the material. If you detect a flaw, but think you could live with it, ask for an additional discount.
Stay Reasonable
Faced with racks and racks of items with deep price cuts, don't be tempted to overspend. Stick to your allotted budget and buy what you really need, not items you merely crave because of the discounted price. A bargain is no bargain if it is never used.