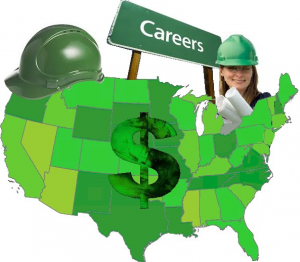 Even though the government reports job growth again this spring, other factors seem inconsistent, leading to a somewhat hazy view as to what actually can be said for the national economy in the long run.
Inconsistent Factors In Determining Growth Or Decline In Economy
In March, only 126,000 new jobs were reported by the Labor Department, ending a run that saw more than 200,000 per month. The April figure rose again, to 225,500 new jobs. But the rising employment numbers have not been matched by significant increases in earnings.
Counterpoints to the job market improvements are signs that worker productivity is lagging, exports are diminishing, only modest gains have been reported in consumer spending and overall economic expansion is "sluggish."
America has been the engine pushing the world's economy in recent years, but the International Monetary Fund predicted recently that recovering strength in the big Asian economies could see them move into the lead.
The many factors determining either growth or decline in the economy are sending mixed signals of either potential strength or potential weakness. Lower oil prices have led to cutbacks at energy companies and the manufacturers who supply them. A stronger dollar has stymied export growth and depressed corporate profits.
On the rosy side, layoffs are down and home sales have surged this spring. A bad winter weather-wise, cheaper oil and a West Coast port wrangle (since resolved) all had a negative impact.
Factors Being Poured Into The Economic Mix In Recent Reports Include:
The number of Americans who applied for unemployment benefits dropped to 279,500 recently, the lowest level in 15 years. The decline seems to portend more hiring, according to the Labor Department. Some employers are holding off on hiring until the trend of the economy is clarified, the department report said. That opinion was supported by a private survey by ADP, a payroll processor. That survey showed that businesses added 169,000 jobs in April, compared with 175,000 in March.
Worker productivity dipped in the first quarter of this year while labor costs went up. The Labor Department report said it was only the third time in 25 years that productivity has shown a decline over two quarterly reporting periods. Such declines suggest that workers are becoming less efficient.
The trade deficit increased in March, creating a drag on the U.S. gross domestic product. However, imports rebounded after the West Coast ports dispute was settled. American exports have become more expensive for foreign purchasers because of the strength of the dollar. The trade gap rose 43 percent over February, the government report shows.
Although the government estimated an 0.2 percent annual growth during the first quarter of 2015, some economists argue that when the trade deficit is factored in, there was actual shrinkage in the economy from January through March.