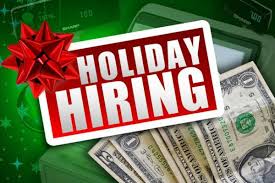 Halloween, Thanksgiving and Christmas are fast moving up to the top of the calendar, and that could be good news for people who hope to find a holiday job. The time to start is right now.
Search for "retail" in your local job search resources and you are likely to find a good supply of possible jobs. Online workshops and resume-building ideas are plentiful. Employers looking for holiday help have been gearing up already in anticipation of the busiest time of the year and you need to be in the front of the line as they actually hire.
The first step is to gather and organize the documents surrounding your work history. Transcripts, certificates, a brief history, awards, performance reviews, work samples and references should be included in a terse but complete portfolio. Be sure you have electronic copies for those who want the information via email.
Prospective employers will have many applications to look at before they chose those applicants they want to interview. They will likely choose those whose presentations are most attractive. Applications with smudges, missing information or illegible entries will almost certainly be the first to hit the wastebasket. Remember that the person going over your portfolio will be judging the quality of your work by what he sees.
Some prospective employers want you to fill in an application at the site and on the spot. Be ready to do that. Have a pen and be ready to ask for a phone book if you need one to fill in addresses, etc., for previous jobs.
Occasionally, a company will use holiday positions to make more long-term hires after the season ends. Don't treat a holiday job with less respect than it deserves.
Related articles across the web