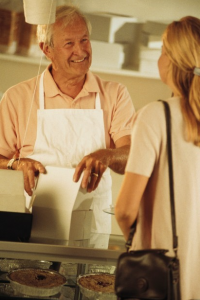 For many Americans, the jump from employment to retirement means getting a bridge job. A bridge job is a bridge between full-time work and retirement for workers who are approaching full retirement but are not quite ready to totally leave the workforce. For some, that interim step can last for years. Retirement is no longer an event, but a process.
Lifestyle Choice
Many workers actively plan for an "old-age" job for many reasons. About 60 percent of aging workers take the bridge job route, according to a University of Minnesota study. And it isn't just those at the low end of the financial totem pole. Many who look at today's longevity stats and their relatively better physical condition choose to work awhile longer as a lifestyle choice. A fair number even "come out" of retirement and seek a bridge job. They could get by on their retirement savings, but find life without work doesn't mean as much. They enjoy the extra income, but view the time filled with useful activity as an even greater bonus.
Erosion Of Retirement Savings
It is now so common that some financial experts look at it as just another job in a lifetime career. Most of those in the workforce now see multiple jobs as part of the standard scenario. The erosion of retirement savings is a factor, as well. Defined-benefit retirement packages are becoming rare and programs such as a company-sponsored 401(k) are taking their places. The move to a 67-year-old retirement target, rather than 60 or 65 amounts to a reduction in benefits, experts point out.
Lower Paying But Flexible
Bridge jobs tend to be lower-paying than the careers the elderly are leaving behind, are less likely to add anything substantial to retirement cushions and may be less strenuous. But the advantages may include more time flexibility, including part-time work.
Rewarding
Some seniors find this as an opportunity to look for jobs in a sector in which they have had an interest, but bypassed during the usual career period in favor of things that paid better. One woman, for instance, went into an education job that was very rewarding to her personally, though it paid much less than her career job. Such teaching or tutoring jobs are very attractive to those whose professional work enhanced their value in an education setting.
Working well beyond what was once considered time to retire is a necessity for some, a welcome change for others. As long as health allows and mental capacities hold up, some opt to keep on keeping on. As one women well into her 90s remarked, "By the time I'm 100, my finances may be in better shape and I can consider retirement by then."