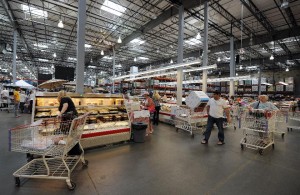 Loading up the cart with bargain-priced items in amounts calculated to last a lifetime, if not forever, is a popular option for many Americans. And the experts say it can be a very good approach, but they warn that the shopping should be focused and strategic to get the most for your buck.
The big-time bulk marketers, such as Costco, Sam's Club and BJ's Wholesale, are experts. They use pricing ploys, store layout, product placement and tempting sales to ensure that you return often. They even choose their shopping carts – larger than normal – to entice you into putting just one more item – or a half dozen – into the day's shopping load.
Costco opened its first store in San Diego, Calif., in 1976. Today it has 468 stores in the U.S. and Puerto Rico, with 33 more in Mexico. They average $164 million in sales annually, overall net revenue of $112 billion overall in 2014.
Tip #1 Special Pricing Available For Large Quantity Buyers
Costco has even lower pricing for consumers who spend more than $10,000 when ordering. You can request special price quotes for specific items.
Tip #2 Factor Membership Fees In Your Budget
The annual membership that customers purchase is a major source of the income. The stores can offer good prices because of the membership fee. So customers need to figure in the fee when they decide how much they are actually saving.
Tip #3 Double Check Your Prices
The outlets also manipulate prices on various items to make the savings seem more than they really are. Pay a reduced price for milk, for instance, and you may not realize that you are paying more for the chocolate you intend to put into the milk than you might have done at another grocery. In the trade, they call this strategy "high-low."
Tip #4 Larger Shopping Carts Means More Spending
Factors that lure shoppers into buying more include the size of the baskets. Since the 1970s, they have tripled and the psychological result is enormous. The urge to fill up the space may lead a customer to pile in more purchases than he or she had intended.
Tip #5 Store Layout Influences Your Spending
Stores are laid out to keep shoppers away from the exits. No bright lights, no windows or other distractions are available to keep them from their shopping. Expensive items, such as electronics, are kept at the front of the stores. In comparison, the sales racks seem even cheaper. They change their offerings frequently, so there is always a sense of being on a treasure hunt.
Tip #6 Ask For A Trial Membership
Some sensible strategies for shoppers include: Ask for a trial membership and then track savings to be sure they offset the fee. Don't assume that large quantities are practical. If your family likes only an occasional bit of cheese, buying it in three-pound blocks isn't wise. Check prices against those in other regular all-purpose stores. You may find such things as party items, greeting cards, note paper, etc., cheaper at a dollar store. If you don't expect to buy a huge amount of goods, bypass the shopping cart. Make a list and stick to it. Give yourself a deadline to be in and out. Go directly to the area where your wanted items are stocked and don't dawdle in the expensive parts of the store.
Tip #7 Returning Items Is Easy
Peterson, of Addicted To Costco recalls once "standing in line behind a man who was trying to return a violin a year and a half after buying it because his daughter didn't want to play anymore. Costco cheerfully gave him a full refund for the instrument."
Tip #8 Get A Cheap Lunch
Many families will go to Costco just to get a cheap hot dog or pizza. Costco's pizzeria's alone would rank #11 in a list of the biggest Pizzeria's in the nation. Free samples for shoppers will help put you in a buying mood.