A new WordPress plugin has been created that will have direct links to 20 different places to submit your blog.  These twenty blog submission directories are popular places to advertise your new WordPress blog. They appear as links inside the back office of your WordPress blog.
These links are great places to submit your blog to get traffic back to your URL.  Some of the links go to blog tracking web sites like www.technorati.com where you can see tracking statistics and find out the popularity of your blog.
Some of the links, like the blog analyzer go to places that analyze your blog posts so you can see which of your posts are pulling the most traffic.
Other links are popular blog submission directories that have been recommended.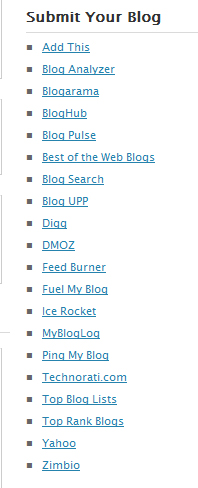 This is just a sample of how it will look in the back office of WordPress.  You can see it in on the right side of the page when you use the write screen to write a post.
Hopefully it will give you some ideas of where to submit your new blog.
If you want to suggest a blog submission diretory to be added to this list, please suggest one!
What does it cost?
I am releasing this 20 Top Blog Summission Directories WordPress plugin into the blogging community as donation-ware.
However, these plugins do take time to write, update, and provide support – so if you find it useful then please consider making a donation. You just click the button below and it will direct you to PayPal. You can donate any amount you wish.