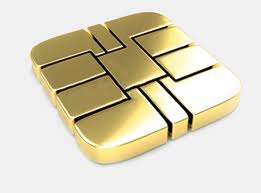 With credit card security becoming more challenging, more banks are issuing cards with tiny computer chips that will, hopefully, make card use less risky.
Over the next year, it is likely that banks will replace credit and debit cards that feature magnetic strips with chip-embedded cards. One of the country's largest bankers, Bank of America, announced recently that new customers will be issued cards with chips. Existing cards will be upgraded as they expire, the bank said.
The chips create a unique code for each transaction, which, hopefully, will stymie thieves who can use the magnetic strip information to create new cards.
The new technology has been in use in foreign countries for some time and U.S. banks have issued chip-embedded cards to Americans planning foreign travel. Shifting to chips in the U.S., however, has been complicated by the complex payment networks in use, according to a New York Times article. However, recent instances of serious data breaches has spurred adoption of the chip technology. Among the recent breaches was hacking of Home Depot data, which jeopardized data on 56 million cards.
Among the large financial institutions hurrying into the process is Chase, which said it already has issued a large number of chipped cards and expects that by the end of the year most of its debit cards will have the new technology. Wells Fargo is experimenting and plans to issue chip-embedded cards in the coming year. Citibank also will make the full shift in 2015. Most customers already have the option of requesting a chipped card.
While the banks hurry to implement the new technology, many retailers are behind the curve, the NYT article said. They do not have payment terminals to process the cards. Some major retailers, including Whole Foods, Sam's Club and Costco, have the equipment and are accepting the new cards. It is expected that most big stores will have the right payment terminals by October 2015. Meanwhile, some card issuers are including magnetic strips as well as chips on their cards so customers can use either technology.
Users will discover some differences as the chip-embedded cards go into service. Magnetic stripe cards are swiped at the cash register. Chip cards are dipped into a reader and remain there for a few seconds while the transaction is approved. Customers will need more cautious to be certain they retrieve the card. That's a small requirement in exchange for what will be less worrisome shopping.