Retirement systems in America are not always available to people. The The Pew Charitable Trusts is an organization that helps states and cities to design
retirement systems that are affordable. They have conducted a study that identified areas of the country that have the most access to retirement plans. The results revealed that access varies more among the nation's metropolitan areas than across states as a whole.
For instance, workers in Grand Rapids, Mich. had the greatest rates of access, at 71 percent and those in McAllen, Tex., the lowest at 23 percent, the Pew study showed in a comparison of 104 metropolitan areas. Overall, the nationwide percentage of workers who had access to a plan was 58.
Fewer Employers Offer Retirement Pensions
With fewer companies offering standard retirement pensions, the importance of a workplace retirement plan is increasingly important to those looking at retirement. Workers are looking more to a 401(k) or other option to help them supplement their anticipated Social Security.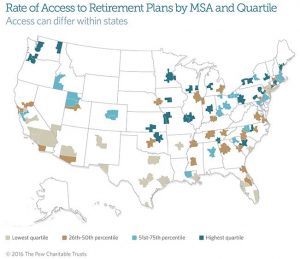 Even so, 40 percent of full-time private sector employees say they don't have access to an employer-supported plan. Local governments look at the reality and are concerned that helping retirees to survive financially may come home to roost with them. Policy questions are on local agendas and state agendas as officials look at the possibility of stresses on such programs as Medicaid, food assistance and other support systems.
State-run Savings Plan
Illinois has enacted a state-run retirement savings plan for some workers who have no workplace access. The plan will go into operation in 2017.
Federal Government Concerns
The federal government has concerns as well, particularly as the long-range health of Social Security is in question. Several policies to encourage savings have been instituted, including the Pension Protection Act of 2006, which enabled prospective retirees to make automatic contributions to a 401(k) plan.
myRA
President Obama created myRA, to assist people who don't have access to a company retirement plan so they can save individually. myRAs will be invested solely in government bonds and will be backed by the U.S. government.
Pew found that the Northeast, Upper Midwest and Pacific Northwest regions of the country have the highest rates of worker access to retirement savings plans, while the areas with the lowest rates are in the South and parts of the West.