Military Checks With Patriotic Themes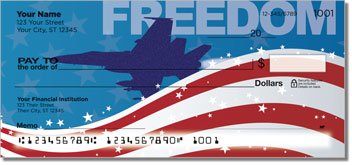 Our patriotic Military Checks are for proud Americans that value freedom and honor those who serve us overseas or in the air. This awe inspiring collection of personal bank checks honors many military services. America is the Home of the Free Because of the Brave. From the Army, Navy, Air Force, Marines and Coast Guard to Boots on The Ground, you'll see why our military checks theme is one of our customers' favorites. The always faithful - Semper Fidelis text repeats in our USMC section. Show your loyalty to America when you order military check designs, checkbook covers and address labels. You will find the cheapest personal check prices available. Don't wait to celebrate your patriotic spirit! 70% Off Bank Prices. Shop now.
Patriotic Checks Support The Military
Have you served in the military or has someone in your circle of friends and family served America, land of the free? Buying discounted or cheap Military checks online are the best way to show your support for the bravery and heroism displayed by our American troops. Whether your special hero served in the Civil War, World War 1, World War II, or fought in wars to preserve our freedom and dignity in the twenty first century, you are sure to find a check representing your choice of military service. Now you can share your admiration for American heroes each and every time your write out a personal check.
Many of our personal checks come in the popular side tear checks or the popular top stub checks formats. As always, we give you rock bottom prices for our cheap checks online. All you need is your checking account number and your routing number and you are set to buy your checks.